Do you remember the commercial with the Mom throwing flour on her face as if to show how she slaved in the kitchen to make the super yummy Rice Krispie treats? What a great commercial!
Well, I discovered a way to spice up those yummy treats so they are even better.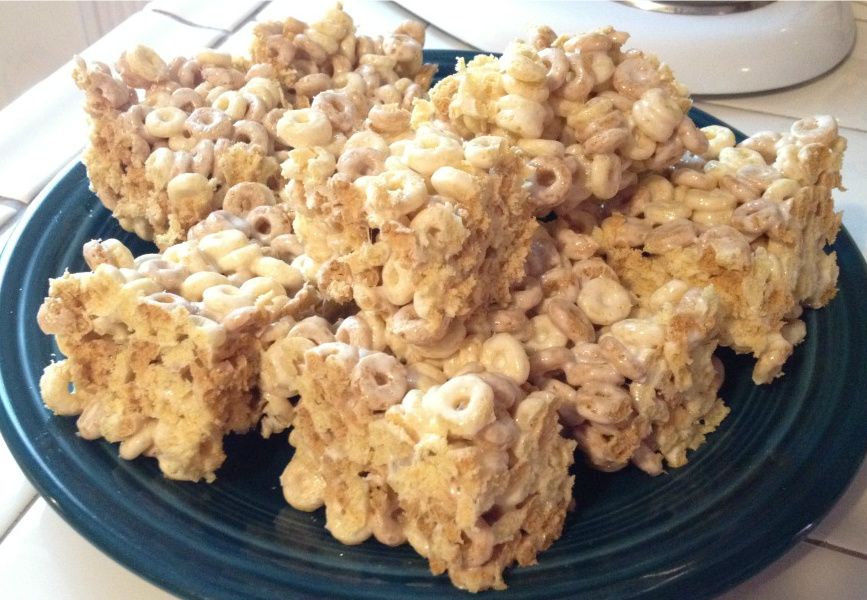 Have you noticed that the Cheerios cereal comes in all sorts of flavors now? Fruit, Chocolate, Plain, Multigrain, Peanut Butter and .....Dulce de Leche (caramel). Well, if you take the Dulce de Leche flavor and substitute it for the Rice Krispie cereal in the treats - you create a

wonderful, rich flavor

! And since our family (at least us girls) are dairy and egg free, we substituted dairy free buttery spread (Earth Balance) for a yummy, dairy, egg, and nut (and red dye) free treat!
I made these yesterday and my girls L.O.V.E them! My two year old loved them so much that she snuck back into the kitchen (when she saw I was properly distracted with a sewing project) and ate another bar. By the time I found her, she had run to the bathroom to clean up any evidence. The fact that she had a

Cheerio stuck to her elbow

and her

hair was matted to her sticky face

told the whole story.
Caramel Cheerio Treats
1/4 c butter (or substitute margarine or DF buttery spread)
1 package of marshmallows
1 box (8 cups)
Dulce de Leche Cheerios
In a large pot, melt the butter. Add the marshmallows and stir until they are melted and smooth. Remove from heat and add the Cheerios. Spread out into a greased 9x13 pan and press down to make the Cheerios more compact.
Let it cool and then cut into squares.
Enjoy!
Don't forget to enter
my
current giveaway

(click for details on how to enter).